Make Your Home Smell Amazing!
Oh, that smell of a fresh cleaned house is something out of this world! It could only be compared to the smell of the rain, the sea or even that amazing smell of delicious food being booked on Christmas morning. I am sure that if most of us could live with these scents every day, we would! However, as life isn't always really fair, we have separated a few tips to make your home smell amazing every time you walk into it!
1.  Let the air in!
This is, by far, the best and most effective way to not only keep your home enough ventilated (which will improve your respiratory system!), but to also make it smell great. The fresh air will work like magic and you feel renewed every single morning.
2.  Essential oils…
We know that the fresh air is not only an option. During these crazy winters we have experienced in the past winters, for an example, it is simply impossible to leave the windows opened. It might also not work for you if you live in near a factory or a big avenue with intense car traffic. You don't want all that noise and pollution inside your rooms – and you're right in doing so!
However, there is a great option if that's your case: Essential oils! They are not only natural, but it smells delicious! There are so many options on the market that it is hard to choose. Before buying, it can be interesting to research about what each oil can do. For an example, lavender is known for its calming effects and patchouli is great for those suffering from intense stress. No wonder why they are used in aromatherapy and other holistic treatments. So while making your beloved home smell better, it will also work as a medicinal option, making you and your family healthier and happier!
2.  …And Essential Oil Diffusers
Okay, essential oils are great, but how exactly can you use them? A great way to do so is by getting amazing essential oil diffusers! All you have to do is to fill it with water and pour a few drops (or a lot, who knows what kind of stress you're under) of oil in, turn it on and let the magic happens.
3.  Lemon Scented Cleaning Vinegar
"Well, I don't believe in holistic treatment and I just really want my house to smell clean, not like a spa!". We get you. Some of us just want to keep it simple. If you are one these people, why not trying a different version of the commonly used vinegar? Add some drops of lemon oil to it and spray it around! Your home will always be smelling fresh and new.
4. Air Purifying Plants
Did you know that plants are great purifiers? No, it is not a myth! Some of the best are different kinds of palm trees, orchids and peace lilies.
If you are still in doubt on how to your house smell better, check the information below and learn how to maintain it beautiful, clean and smelling great!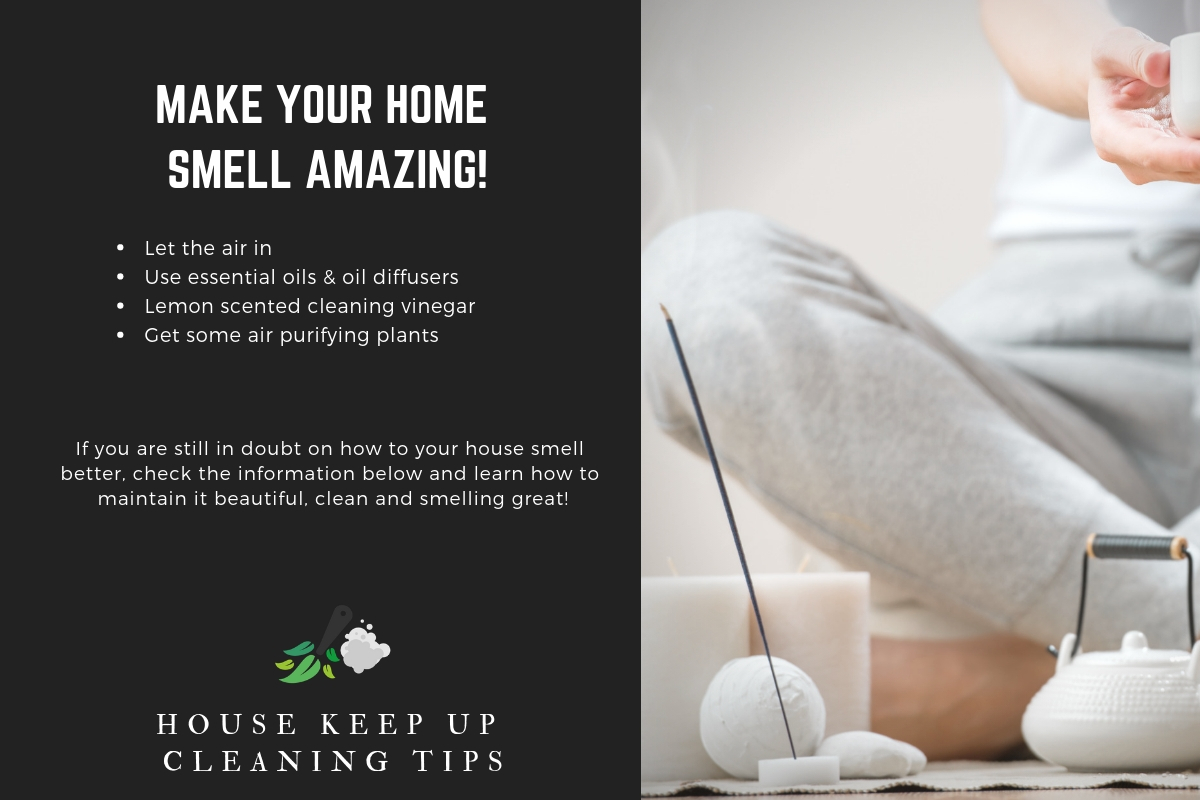 Sources of Home Odors and Their Solutions:
Smelly Area
Chemical Cleaner
Natural or Homemade
Litter box
Pet odor neutralizing spray
Baking soda
 

Carpet

Scented carpet powders/Febreeze
Baking soda, borax, baby powder
Trash can
Bleach
Vinegar
 

Drains

 

Bleach

Hot vinegar or lemon juice+baking soda
Mildewy areas
Bleach
Tea tree oil
 

Rooms in general

 

air freshener spray, potpourri

Essential oils, dryer sheets, homemade potpourri
 

Mattresses and pillows

 

Febreze

Homemade fabric refresher, diluted Lysol or other cleaner